McIntosh Advertising and Direct Mail
A History
Copyright 1996-2005 by Roger Russell
All rights reserved
No portion of this site may be reproduced in whole or in part
without written permission of the author.
†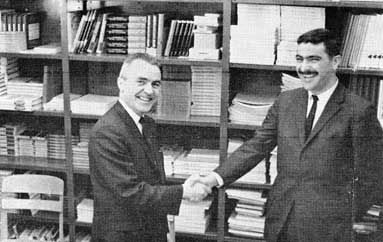 In 1964, J. Richard Bucci (right) was made advertising manager for McIntosh. He had previously worked for Sargent-Rayment as well as Thomas Tenny retail operators in Berkley, Calif. He started what could be called an "in-house" advertising agency that was part of McIntosh.
He is being congratulated by Gordon Gow, Executive Vice-President. The picture at the left is courtesy of Audio Times, February, 1964. It may have been taken in Gordonís office in front of the assortment of books that he kept to give to dealers and sales people.
The new advertising agency operation was called JRB Advertising, named after John Richard Bucci. The offices were located at plant #3 on Barlow Road, just a few miles east of the main plant and across the Susquehanna River. After driving up a short steep road to the rear of this 2-story building, parking can be found. There, on the second floor, was the entrance to JRB advertising. Picture is at the left.
Unfortunately, Richard died in a plane crash on May 1, 1967 at LaGardia Airport along with two other passengers, his wife Barbara Ann and Toby Campbell, the wife of McIntosh engineer, Dave Campbell. Here is a picture of Richard Bucci taken in 1965. He is standing on a single engine Piper Cherokee, perhaps the very same rented plane involved in the fatal crash. It collided with a de Havilland Dove airplane of Yankee Airlines. Fire broke out immediately following the crash and the Cherokee was destroyed by the impact and fire. The wills of Richard and his wife left everything to each other. Investigation showed that his wife survived him, if only by a few seconds. Failing that, the property was to be held in trust for their two children Noel and Megan until they reached the age of 30. Although Richard was a fully licensed pilot to fly multi-engine aircraft, the crash was attributed to pilot error on his part. I attended the closed coffin ceremony along with many other family, friends and McIntosh employees.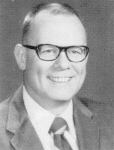 Later, in 1967, Dirk Roos was made manager. Dirk had joined McIntosh in 1957. Prior to then he had been an independent McIntosh retail dealer in Detroit. After joining McIntosh, he had been handling sales and marketing functions such as dealer selection, dealer supervision, training, merchandising, in-store clinic operations, sales support, etc. He was also on the board of directors of the International Society for General Semantics.
Dirk expanded the advertising department to include direct mail. This included a complete art and layout department for the mailers as well as for the McIntosh manuals and literature. A substantial investment in equipment, people and space was made to provide the direct mail service. Because the quantities involved were so large, the mailers could be done for less cost than what a dealer could do and was a lot cheaper than a newspaper ad. For instance: McIntosh would buy 700,000 pieces of paper at a time at lower cost per sheet but at the same time could offer 400 different colors of ink. The dealer could supply the artwork or for an extra cost, McIntosh could do all of this for the dealer.
Results of the mailer system showed that for every 1000 qualified names on the list could generate $50,000 in annual sales. For this to continue to work, the mailers should be used at least every 60 days. With a mailing list of 7000, the total investment in advertising for $350,000 worth of business is only $3912, just a bit over 1% of sales. The mailers were sent third class and in January 8, 1968, the cost was only 3.6 cents.
Jean Michelbach was a key person with dealer communications and scheduling. She was at McIntosh for many years.
I was very impressed when McIntosh bought a computer to do the word processing. Imagine, you could insert a word into a sentence and it would adjust the lines automatically. Well, in those days this was revolutionary and cutting edge. In 1970, Fred Apple was hired to manage the direct mail services.
This kind of advertising proved to be much more effective than large ads in the popular hi-fi magazines. As a result, for many years, McIntosh advertised very little in the magazines. Only a small ad could be found encouraging readers to send for a free catalog and FM station directory.
McIntosh prepared manuals and literature for their own products plus the dealer-advertising mailers. By 1983, the mail service had expanded considerably. Here is the section where the artwork and layout was done. The mailers contained not only McIntosh equipment, but also other brands of equipment sold by that particular dealer. The mailers were often used to advertise a future McIntosh clinic for a particular store. Dealers that subscribed to the direct mail system were required to pay for all materials and printing costs. However, McIntosh paid for Typing names and addresses on data processing cards, zip coding, updating the list, deletions, addressing prepared material and zip bundling and bagging per postal regulations.
The mailers ranged from newspaper size to post card size. At its peak, about 40% of the McIntosh dealers were using the service. McIntosh maintained all of the mailing lists. At one time there were 1,500,00 names in the database. The mailing lists were compiled from names sent in from McIntosh registration cards, free catalog ads and from those who attended clinics. The operation was going strong in 1983.
Printing of many pieces was done by Simpson-Milligan that was conveniently located on the floor below.
Here is where the mailings were being prepared to be sent out. Unfortunately, by the late 1980's, very few dealers were using the mailer service. At the end of 1991, the service was declared unprofitable and was ended. The final issue from JRB Advertising, Inc was released on Monday, November 4, 1991. It was created to honor Dirk Roos, who was the driving force behind JRB advertising since 1968. The employees of JRB gave him a surprise luncheon at Prontoís, his favorite Italian restaurant. Many people left personal notes in the publication for him.
About This Site

More text and pictures about McIntosh will be added as my research continues. Any comments, corrections, or additions are welcome.

Created by Roger Russell
All contents are copyright 1996-2005
by Roger Russell All rights reserved