The MCP-1 Moving Coil Preamplifier
A History
Copyright 1996-2004 by Roger Russell
All rights reserved
No portion of this site may be reproduced in whole or in part
without written permission of the author.
The MCP-1 moving coil preamplifier was designed to complement the new McIntosh moving coil cartridges, MCC 800 and MCC 1000. By designing an outboard solid state preamp, also referred to as a Head Amp, it enables owners of earlier McIntosh equipment to use these cartridges with their existing system without purchasing a whole new preamp. It also provides a superior preamp that will work with any other moving coil cartridge.
The moving coil cartridge typically puts out 0.3 millivolts compared to 3.0 millivolts for a moving magnet type. One solution to increase this low voltage is to use a transformer. However, a transformer that operates at extremely low voltage levels has several problems. The ease with which the magnetic core concentrates lines of magnetic force vary with the voltage level. This variation adds distortion to the music signal at low frequencies. In addition, transformers are very susceptible to hum pickup and must be positioned away from power transformers in nearby equipment or other sources of stray alternating current fields.
One solution for a solid state preamp would be to make it battery operated and avoid the problems of hum fields from a power transformer. However, battery failure is a problem that McIntosh customers should not have to endure.
The McIntosh MCP-1 has a unique power supply that has no transformer and the power supply operates at a frequency of 200 kHz, which is way beyond the audio range. A separate power supply is used for each channel. The unique solid state design also keeps the hum and noise levels at an unusually low level.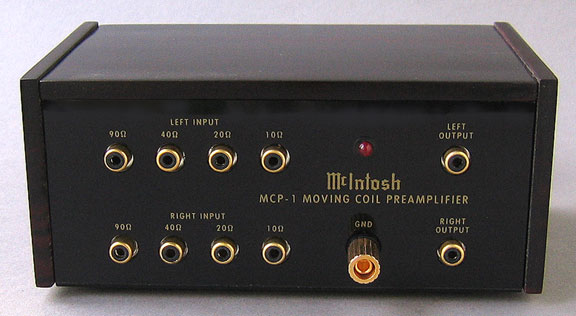 Inputs are provided for several different moving coil cartridge impedances: 10, 20, 40 and 90 ohms. A binding post ground terminal is also provided as well as output connections. The post and connections are all gold plated. A red led light glows when the power is on. The MCP-1 has no power switch and can be plugged into a switched outlet on a preamplifier. The MCP-1 does not provide RIAA equalization and could really be called a pre-preamplifier or a head amplifier. It is connected between the turntable and the magnetic phono input of a preamplifier.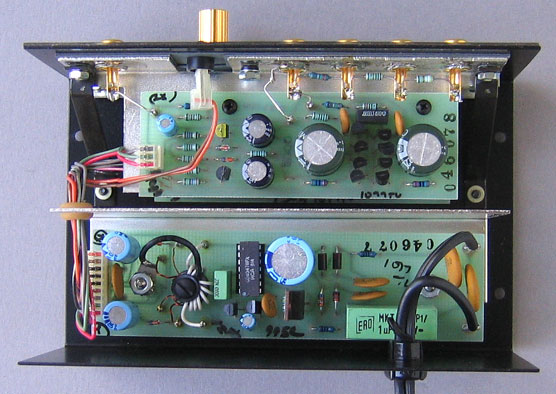 The pc board next to the connecting terminals is for the left channel. An identical board beneath it is for the right channel. The steel cover completely shields the inside of the preamp. is a picture of the side of an MCP-1.
The top and sides of the preamp are covered with rosewood. I learned that these high quality rosewood pieces were specially selected by an agent in Paris, France for McIntosh.
The pieces are 1/4" thick and are rather dark. They are highly polished. Each piece is different, of course.
For more information about the McIntosh cartridges, see the story about Okie Sugano and Gordon Gow.
Specifications
Input Impedance: 10, 20, 40, and 90 ohms.
Gain: 10 ohms—31 dB, 20 ohms—26 dB, 40 ohms—20 dB, 90 ohms—13 dB
Frequency Response: +0, -0.5 dB, 20 Hz to 70 kHz
Total Harmonic Distortion: less than 0.01%
Signal to Noise Ratio: 83 dBA (re: 500uV input at 1 kHz, 10 ohm input, with RIAA equalization) (equivalent to -149 dBV at input at 1 kHz).
Phase Shift: Non-inverting
Channel Separation: More than 90 dB, 20 kHz to 20 kHz
Semiconductor Complement: 22 bipolar transistors, 2 integrated circuits, 11 diodes
Power Requirements: 85-135V, 50/60 Hz, 2 watts
Size: 7" wide (17.8 cm) by 3-3/16" high (8.1 cm) by 5" deep (12.7 cm)
Finish: Cabinet is rosewood finish on solid Macassar ebony. Front panel is black with gold lettering. Chassis is black.
Weight: 3 pounds (1.4 kg) net, 5.5 pounds (2.5 kg) in shipping carton.
Sold from: 1983-1987
Last retail price: $649.00
About This Site

More text and pictures about McIntosh will be added as my research continues. Any comments, corrections, or additions are welcome.

Created by Roger Russell
All contents are copyright 1996-2004
by Roger Russell All rights reserved