McIntosh Equipment Consoles
A History
Copyright 1996-2003 by Roger Russell
All rights reserved
No portion of this site may be reproduced in whole or in part
without written permission of the author.
<![if !vml]>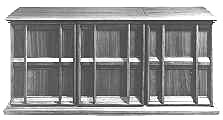 <![endif]>Warren-Friedman also designed the equipment consoles. The L3C contemporary and L3M Mediterranean style matched the ML speakers. The consoles were large, measuring 29" high, 63-1/8" wide, 21-3/8" deep. The front of the console was composed of three panels The left and right panels were hinged doors. These areas could be used for record or tape storage. The center panel did not open.
<![if !vml]>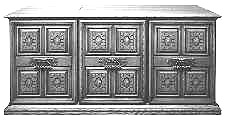 <![endif]>There were two lift-up tops with hinges that held the tops in place. One top was two panels wide. Inside, there were three compartments. The center one had a fixed height and was for a preamp, equalizer and power amplifier that were Panloc mounted facing upwards. The left and right compartments were for a turntable, tape recorder etc. The shelf height in these compartments was adjustable.
The depth of the equipment console was determined by the space needed to fit a C26 preamp, MQ101 environmental equalizer and MC2105 power amplifier. The depth of the ML-2 and ML-4 systems was adjusted to match this 21-3/8" dimension. The heights were also made to match. The speakers could be located on either side of the equipment console and present a uniform appearance.
The added depth requirement for the ML-2 and ML-4 created too large a volume for them to work properly. An internal wall was used for the correct volume. The external back was removable to access the crossover that was mounted in this compartment.
The contemporary equipment console was made in a walnut finish and the mediterranean was in a pecan finish, The mediterranean panel fronts were made of molded solid urethane and finished to be indistinguishable from real carved wood. The equipment consoles were manufactured starting in 1971 and sold for $600.00.
About This Site

More text and pictures about McIntosh will be added as my research continues. Any comments, corrections, or additions are welcome.

Created by Roger Russell
All contents are copyright © 1996-2003
by Roger Russell All rights reserved
<![if !supportEmptyParas]> <![endif]>